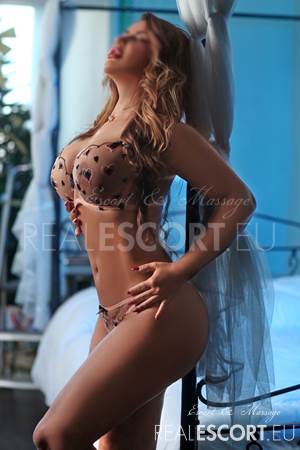 Anzeige wurde validiert vor 1 monat
Videos
Chanel01
Jetzt ansässig in Oslo
Preise:
Outcall (Hausbesuch)
3.000 NOK
Outcall (Hausbesuch)
6.500 NOK
Outcall (Hausbesuch)
15.000 NOK
Outcall (Hausbesuch)
25.000 NOK
Bewertungen: Allgemeine Zufriedenheit
Gut: 43 | Schlecht: 2
Beschreibung
Hello darlings✨, my name is 𝒞𝒽𝒶𝓃𝑒𝓁 an Independent hot 🔥 latin girl.

Last days in Oslo 🗓️

🗝 Please dear, I invite you to read 🔎full info before contact me ✍️💌

Checkout my videos!!

I am a woman of the world! Well traveled, educated and sexy as a good latina.
I enjoy the company of a gentleman who enjoys everything life has to offer… If you are looking for a good time to disconnect from the routine with a confident, witty, and discreet lady, then please contact me. I love to please you and offer a great service the best I can. I'm everything you have ever hope don't wait to come to meet me. 💎

✅Offering incalls services and also hotels.
. My first lenguaje is Spanish but English as a second, so communication isn't an issue for both.

I will be your ideal companion even for a trip, event, or dinner. I guarantee you the best services and GFE benefits at the highest level.


I really appreciate you be on time if you have to cancel or will be late let me know asap please. Of course will do the same. "A little niceness goes a long way and can be very rewarding". (Not second chances if you don't cancel)

My way of dressing is elegant and seductive, at the same time discret. I'm not vulgar. If you have any request of a dress or lingerie please let me know before our meeting.
Nice lingerie is always with me
I will promise that our time together will be uniquely special and you will be completely satisfied. 🫦

My pictures are 100% genuine, you do not need to worry about it, videos and selfies. I love to take care of my self what I project to outside, also mani 💅🏼 and pedi🦶are always on point 🤌🏼👌🏼.


✅I offer GFE services, different positions, intimate and erotic experience.
All services mentioned on the list are included on the fee I don't charge any extras.

✅I provide services for couples ( this services only is offered in a hotel 🏨 not at my place) service is 5500 nok 1 hour plus cab 🚕


As a VIP companion, with the highest level your privacy is my priority💯. Confidence and safety, having a good conversation like old friends I'm easy going, with a nice sense of humor you will find in a true latina lover, that's me!
Im located in a nice and discreet area, parking nearby.
Our meeting must be a special moment for you.

The hygiene should be impeccable. It is essential hygiene be performed by my guests at my place.

***It is advisable to confirm appointment between 1 hour in advance. I like to prepare myself in advance to welcome you in the best conditions.

***Being very solicited, donations should NOT be discussed 🤝 during the phone conversation/email and our meeting.
Please don't ask for discounts

*** ONLY GENTLEMEN, with excellent manners.

***I reserve the right to refuse an appointment and my conditions are not negotiable please respect that.

*** Dear friend! I ask you kindly please cancel the meeting with me if you feel unwell. Let's take care of each other's health! 🤝👍🏼


📌 messages after 23 hours I can't guarantee to reply.


MY PICTURES ARE 100% REAL.


❗️Contact me by the number indicated 📲 +4746713783 preferably by WhatsApp or iMessage some sms doesn't arrive.

If I don't pick up your call 📞 Best way is sending a WhatsApp.
📝 PLEASE tell me a bit about your self: nationality by origin, age, if you consider something relevant to mentioned, how long are you interested to be with me and time, these points are very important to get an appointment with me❗️


If you like FOOT FETISH (i have beautiful feet), all position are alloweed in my bed, COB, FK (if is good higienic) , OWO (hygiene impeccable) GFE, striptease, full body massage.


I am 100% independent LUXURY LADY, I pick up the phone by my own, If I don't reply please be patient sometimes I'm busy. Try again.
⁉️Darlings I have limited appointments per day, by which I appreciate the quality and not the quantity, friends I've meet from before are ALWAYS my priority ❤️‍🔥. Of course Im open to meet new friends that call with registered number on 180.no, the reason is to keep my safety and from my guests.
If I don't feel chemistry at the phone I have the chance for not continue on the conversation without telling the reasons, this is my choice and I don't accept to be questioned about that, thanks for understanding.

I really appreciate you took the time to read my full info 🙌🏽🫦
Do not hesitate to meet me,
I invite you to contact me for an unforgettable experience.
I'm pettry sure you will not miss it.

Looking forward to see you...

Incall: 1 h 2500 nok (250 euros)


*Payment can be done in euros also 💶
*cash nok, eur, PayPal, revolut.
*outcall service : fee 3000 nok (🚕 taxi isn't included must pay by customer)

*Dinner fee includes 1 hour in intimacy.

***Only serious messages!



Please! I will not reply if you...
. Do video calls.
. Asking for penetration without protection 🤦🏽‍♀️
. Vulgar with rude words
. Messages without any sense

*All messages like:

-asking photos ( you can check all my books on the site also professional videos and selfies also, to verified my authentically), I don't show my face because I also do other activities, no video calls neither. If you don't trust don't be worried there are many beautiful girls that you can contact.

-wanna meet
-Oslo?
-hey, hei
-address
-trying to make jokes
-asking discounts
-telling stories about fantasies
-With suspicious questions


Last points mentioned ARE ALWAYS IGNORED, I never answer to messages like that. Dont waste Your time if You plan to write this 😉 Thank You for understanding.


With love 💕
𝒞𝒽𝒶𝓃𝑒𝓁 🌹
Kontakt
Kontaktzeiten
Sagen Sie: Ich habe Ihr Anzeige auf RealEscort gefunden
Ich spreche:
Spanish: Gut
English: Gut
---
Bitte sagen Sie mir, dass Sie meine Anzeige gefunden haben auf www.realescort.eu
Allgemeine Warnung!
SENDEN SIE NIEMALS IM VORAUS GELD, wenn Sie ein Meeting oder eine Dienstleistung buchen!
Diese Anzeigen sind meistens und wahrscheinlich SCAM. Sie verlangen in der Regel Ihre Verifizierung als Neukunde durch Senden eines bestimmten Geldbetrags per Paysafecard, Coupons, Google Play Card, PayPal, Vipps, Banküberweisung, Konto zu Konto usw.
Dies ist eine allgemeine Warnung, die wir allen Besuchern geben. Es geht nicht um diese bestimmte Anzeige, die Sie besuchen.
Services
Ein rotes Warnsymbol bedeutet, dass der Service spezielle Anweisungen hat. Klicken Sie hier, um mehr zu erfahren.
Weiterlesen
Kalender
März 2023
April 2023